Sennheiser Ambeo Soundbar Mini
Price: $799 / £699 / AU$1,299
Colors: Black
Ports: 1x HDMI out (eARC/ARC)
Speakers: 6 (Specified: 4x full range; 2x woofers) 
Audio channels: 7.1.4
Audio formats: Dolby Atmos; Dolby Digital; DTS:X, Sony 360 Reality Audio
Power output: 250W
Wireless: AirPlay 2; Bluetooth SBC, AAC; Chromecast; Spotify Connect, Tidal Connect
Smart assistant: Alexa; Siri
Subwoofer: Available separately
Dimensions: 28 x 4 x 2.6 inches
Weight: 7.3 pounds
Wall mountable: Yes
The Sennheiser Ambeo Soundbar Mini has just been announced at IFA 2023. It's the latest addition to the company's popular single soundbar series and the third model in German audio company's Ambeo Soundbar range. It joins the Sennheiser Ambeo Soundbar Plus that arrived earlier this year. 
As the name suggests, the Mini is the smallest model the Ambeo series so far, and in terms of its footprint it's akin to the Denon Home Sound Bar 550. In keeping with the compact form factor though, it shirks some facilities and performance power of the 5 best TV upgrades I've tested, and is aimed as at mid-sized TV screens such as the best 50-inch TVs.      
Despite its more diminutive size, it claims 250W power output to 7.1.4 channels — seven phantom full range channels, plus one sub bass, and four Dolby Atmos channels. Like its bigger brothers, the Soundbar Mini uses Ambeo virtualization tech to deliver Dolby Atmos, DTS:X and Sony 360 Reality Audio soundtracks, as well as up-mixing stereo TV and music content. It's not quite the same as having dedicated surround speaker behind you, but can be more effective when it comes to delivering an immersive viewing experience once the Ambeo speaker has been through its self-calibration process to adapt its output sound to the room acoustics it's placed in. 
I was lucky enough to hear the Sennheiser in action prior to the IFA 2023 launch in Berlin. Although I've yet to experience it properly at home, here are my first impressions of Sennheiser's Ambeo Soundbar Mini.
Sennheiser Ambeo Soundbar Mini: Price and availability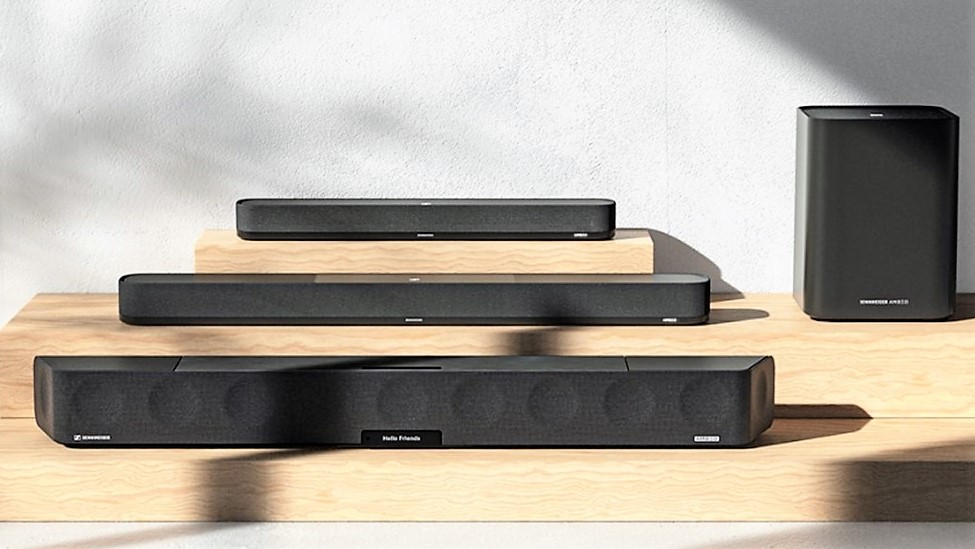 The Sennheiser Ambeo Soundbar Mini will be priced at $799 / £699 / AU$1,299 when it goes on sale on September 1 via the Sennheiser store and online retailers. That's around half the cost of Ambeo Plus, which launched earlier this year at $1,499 / £1,299 / AU$2,399, and around a third of the cost of the original Ambeo Soundbar Max priced at $2,499. 
Despite the new low price point for a Sennheiser Ambeo model, it's only $100 less than the Sonos Arc, one of the best Dolby Atmos soundbars and Sonos' flagship soundbar. The catch is that Sennheiser's Ambeo immersive tech doesn't come cheap, which makes the Mini price seem high for a single soundbar, especially when you consider the new Yamaha SR-B40A comes with Dolby Atmos and a wireless subwoofer for $399.
With the Sennheiser you'll need to factor in the extra for the Ambeo Sub, which is priced at $699 / £649 / AU$1,119. 
Sennheiser Ambeo Soundbar Mini: Design and connectivity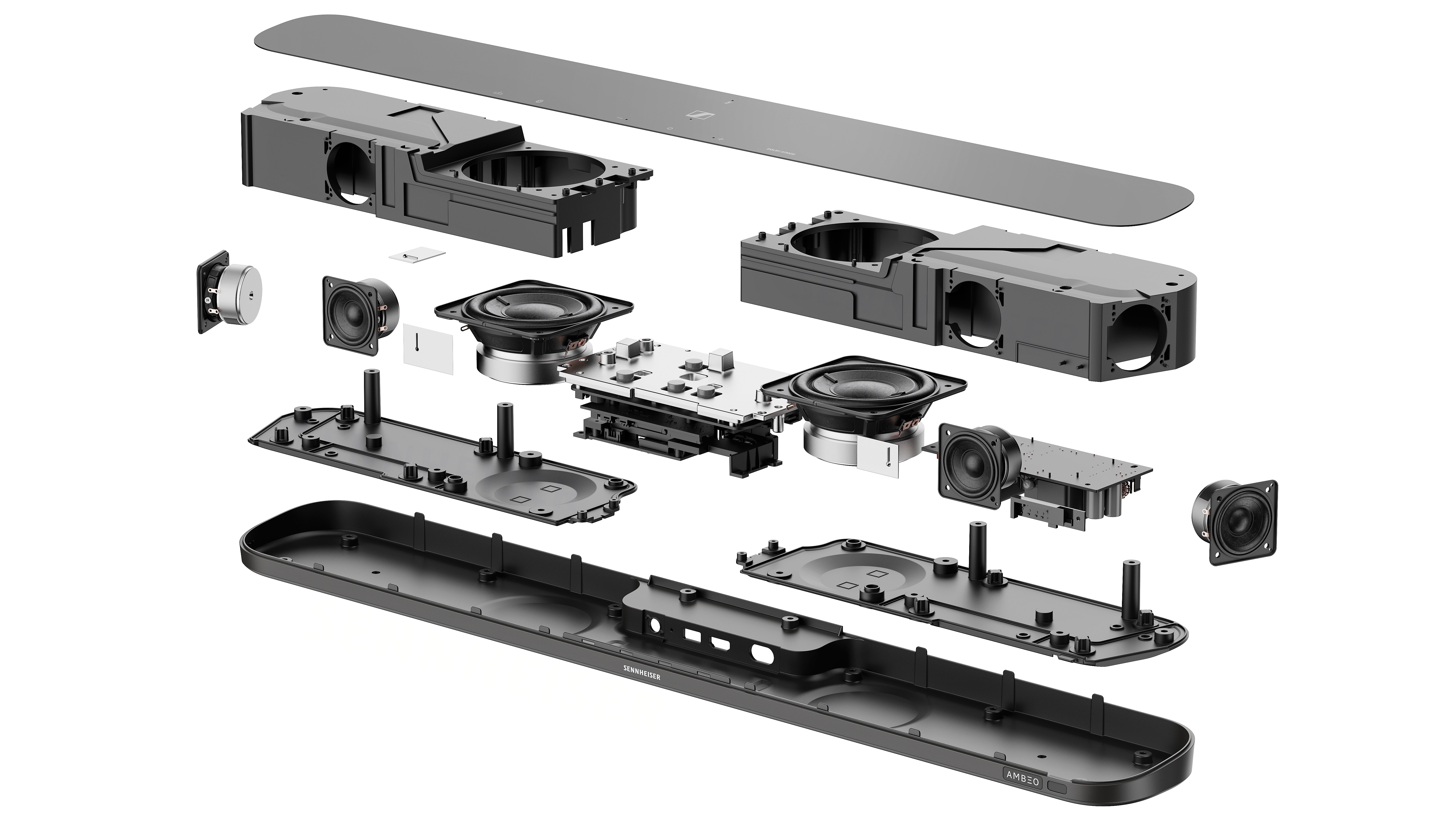 The Sennheiser Ambeo Soundbar Mini is nicely compact and measures around 28-inches long and 2.6-inches tall, and weighs around 7.3 pounds, making it more living-room friendly than the Ambeo Soundbar Plus. Build quality feels good, and the Soundbar Mini has a similar black cloth grille to the Ambeo Soundbar Plus.
Wireless connectivity runs to streaming via Bluetooth, AirPlay 2, Chromecast, Tidal Connect, and Spotify Connect. Physical ports have been trimmed back on the Soundbar Mini and run to 1x HDMI output port (with eARC support) only. There's a powered USB port but no Ethernet socket. Alexa and Siri voice assistants are built in, and it can be wall mounted. 
There's no remote control, but the Sennheiser Smart Control app provides full and reliable control over the Ambeo Soundbar Mini.  
Sennheiser Ambeo Soundbar Mini: Performance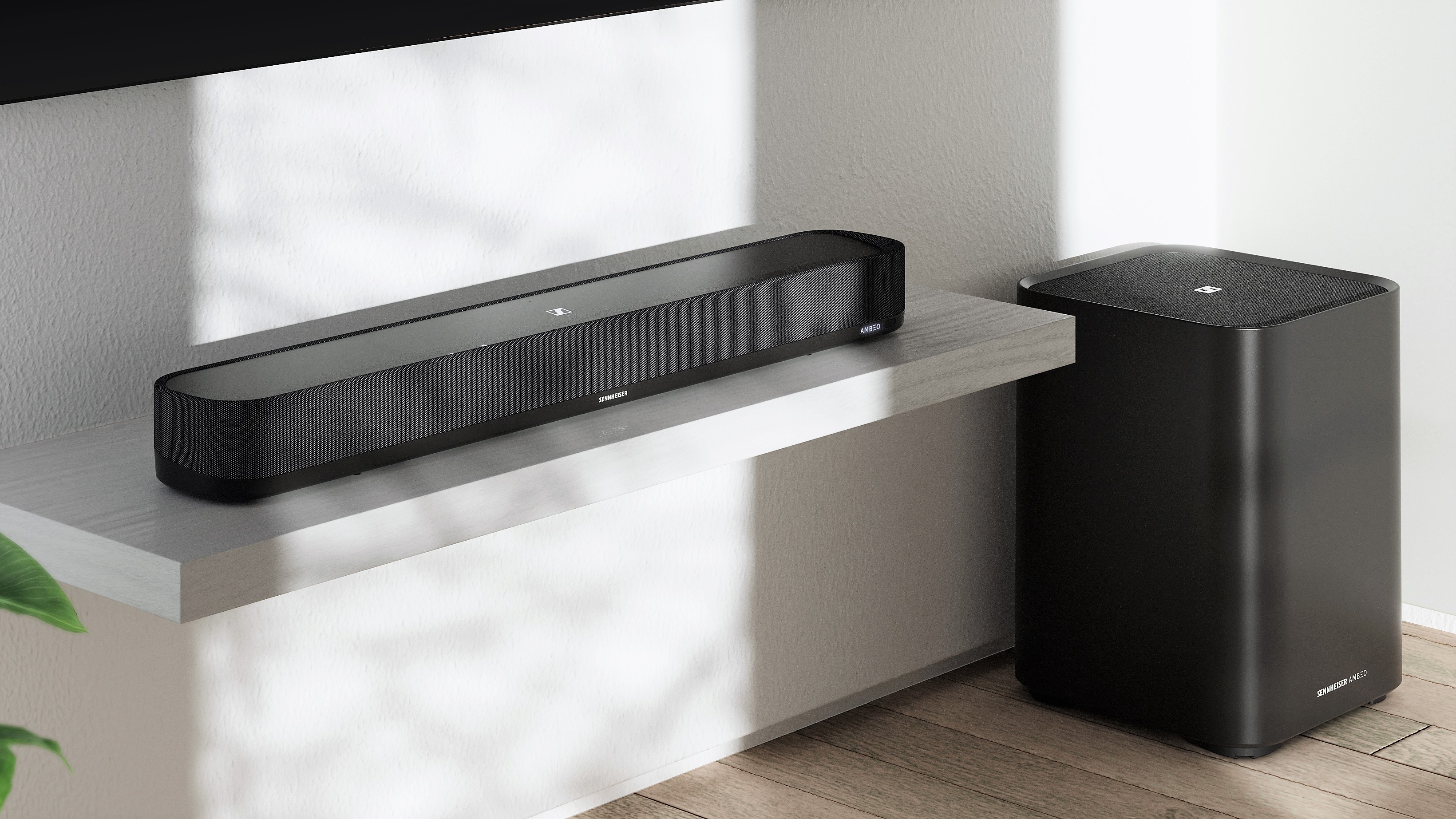 On its own, the Ambeo Soundbar Mini did a decent job of elevating onscreen dialog to bring a realistic sense of weight to voices during news broadcasts, and TV dramas like Breaking Bad on Netflix also put in a rewarding performance.
The room calibration mode appeared to give a worthwhile boost to the Sennheiser's overall sound performance during my short hands-on test. And enabling Ambeo mode gave a slightly more expansive soundstage with some sense of a wrap around effect. 
As with the Ambeo Soundbar Plus, the Adaptive Ambeo mode switches according to what kind of content is being played through the speaker, or users can choose from five preset modes including Music, Movie, Neutral, News, and Sports. Movie mode gave the most consistent and satisfying results for my room and ears.
Based on my listening so far, I feel that most users will want to add the Ambeo Sub to beef up the Mini's sound output which can feel a little underpowered on its own. And if you want to go all out, the Soundbar Mini can be partnered with up to four Ambeo Subs for the Sennheiser's ultimate immersive bass experience. That might sound like over kill, but could prove useful if you're experiencing difficulties driving a larger room and energizing it with high-octane sound.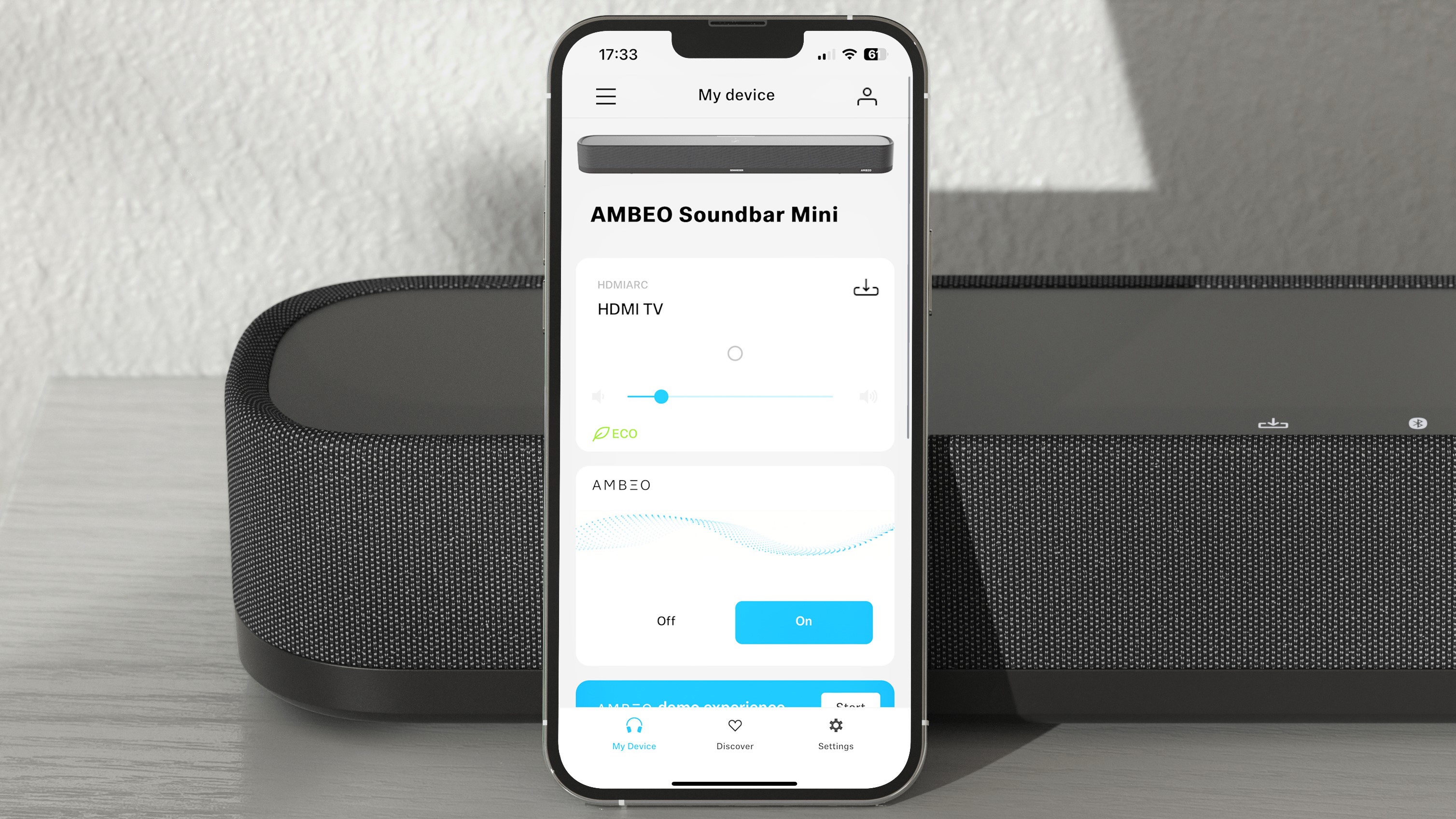 Sennheiser Ambeo Soundbar Mini: Outlook
Sennheiser's Ambeo Soundbar Mini really does look neat. I'm impressed by the compact dimensions that are likely to make it attractive to those with mid-sized TV screens. At this point though, I'm less impressed by Sennheiser's pricing structure. Although it's a good deal less than the Plus version, the Mini price feels high particularly when most buyers will want to add the matching sub for the best performance, which, of course, pushes the high price even higher. 
Look out for my full Sennheiser Ambeo Soundbar Mini review coming shortly once IFA 2023 is over.
More from Tom's Guide